DHF are proud to announce we are supporting Tanysha & Tanaya Dissanayake & Tamash Raaj, a trio of budding tennis, karate & cricket-playing siblings, with their high ambitions in their various fields. Here are their stories so far:
Tanysha Dissanayake
Tanysha is a tennis player who although still a junior, plays mainly in the Women's Pro Tour. She is currently under 530 in the World and rising. She has won a few junior ITF events and also recently reached the Quarter Finals in the Women's Tour in Mexico. Tanysha played at Junior Wimbledon in 2018.
Tanysha's goal is to achieve a world ranking of 10 & under and also to do very well at the Women's Wimbledon Championships one day. With her hard work and amazing work ethics, there's no reason why she shouldn't have these goals.
Tanysha plans to follow a career in medicine once her tennis career is over.
Tanaya Dissanayake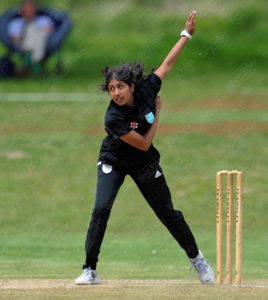 Tanaya is a member of the Surrey U:17 Girls Cricket Team. She is their main pace bowler and a very useful batter when they need quick runs. Tanaya is the only female in the Adult 4th Team at her club which plays in the Surrey League. She also plays for the  Boys U:17 A Team which plays A Division in the Surrey League.
Tanaya is the first female player at her club, Malden Wanderers, to play in the adult teams. Her short term goal is to play for the Surrey Women's Team, with ambitions to play for England one day.
As well as continue her journey with cricket, she has a huge love for all animals. One day she would like to study to be a Veterinarian.
Tamash Raaj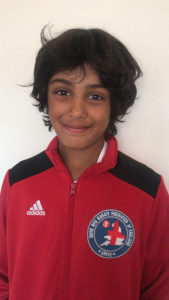 Tamash has had a very colourful and amazingly successful time in his young life. He has achieved so much in his young life that most people could only dream of in a whole life time. At 9 yrs of age, he won Gold at the World Karate Championships and went on to win the European Championships as well as the British Nationals.
This year, at 10 years of age, he was the youngest in the U:12 Category at the European Championships and went on to win the gold medal. The only individual gold medalist out of the 28 England squad that was at the Championships.
Tamash also excels at Cricket. He is in the Surrey U:10 Cricket Team and has been since he was 7 yrs old. He has been mentioned as the best Batsman in the country for his age group and also one of the top in the year or 2 above him. He has got the best batting average and highest score for Surrey so far this season.
Tamash plays A Division for his club. He plays for the Uu:12 A Team and does amazingly well to hold his own. Tamash is also the main wicketkeeper for Surrey U:10. He is the youngest ever at 9 yrs, to be sponsored by world-renowned cricket equipment sponsor Gray Nicolls as their sponsoring age is 14+.
His greatest goal is to play cricket for England, and also if there's Karate at the 2024 Olympics to be able to represent England.