On the hottest day of the year, an audience of 350 cooled off in the air-conditioned comfort of Cornerstone Church in Walton-on-Thames, to enjoy a delightful evening of pure musical entertainment, as the 90-voice Elmbridge Ladies Choir celebrated their 10th anniversary with a special concert, "Now We Are 10!"
The celebrations started with a brief, but nonetheless impressive, performance from the 130-strong mixed-voice Elmbridge Choir led by Surrey Music's CEO and founder Cliff van Tonder, swiftly followed by the main act, Elmbridge Ladies Choir, who took to the stage and delivered a programme of much loved songs from the choir's last 10 years.
As the choir's first ever Musical Director, Cliff led their first song of the evening, followed by former Musical Directors Ramon Davis and Dale Thomas, who had returned to direct the choir for one song each and regaled the audience with fond, funny and emotional memories of their time with the choir. The choir's current MD, Christine Parker, then took over the baton for the rest of the evening, smoothly and skilfully leading the ladies and introducing each song with charm and gentle humour.
The second half of the concert saw the ladies return to showcase their brand-new repertoire. Resplendent in their beautiful new purple scarves, the ladies sparkled, their enthusiasm, joy and passion for singing evident for all to see. "Our ladies were on splendid form and rose to the occasion," says Cliff. "I am so very proud of each and every one of them. I really enjoyed the opportunity to direct them once again in the first song I ever taught them – a fun medley of 60s classics called '60s Chicks'!"
The special concert raised £2300 for the Dylan Howells Foundation, a charity which encourages children and young adults to progress in their chosen sport and to help them fulfil their ambitions, irrespective of ability. "We are extremely grateful for the support of Surrey Music", said Brian Howells, Chair of the charity. "This amazing sum will enable the charity to further support aspiring young sportspeople to reach their potential."
The Mayor of Elmbridge, Cllr Mary Sheldon, attended the concert with her Consort, John Sheldon, and paid tribute to the two Surrey Music choirs, joking, "Whatever did we do before Elmbridge Choir and Elmbridge Ladies Choir? Elmbridge must have been a very dull place!" She also congratulated Cliff on his British Citizen Award for services to the Arts which he received early this year.
Surrey Music will be performing at the first Pride in Surrey event to be held in Woking on 10th August, and Elmbridge Ladies Choir can be seen at Elmbridge Food Festival at Painshill Park on 21st September.
For more information on Surrey Music visit www.surrreymusic.org.uk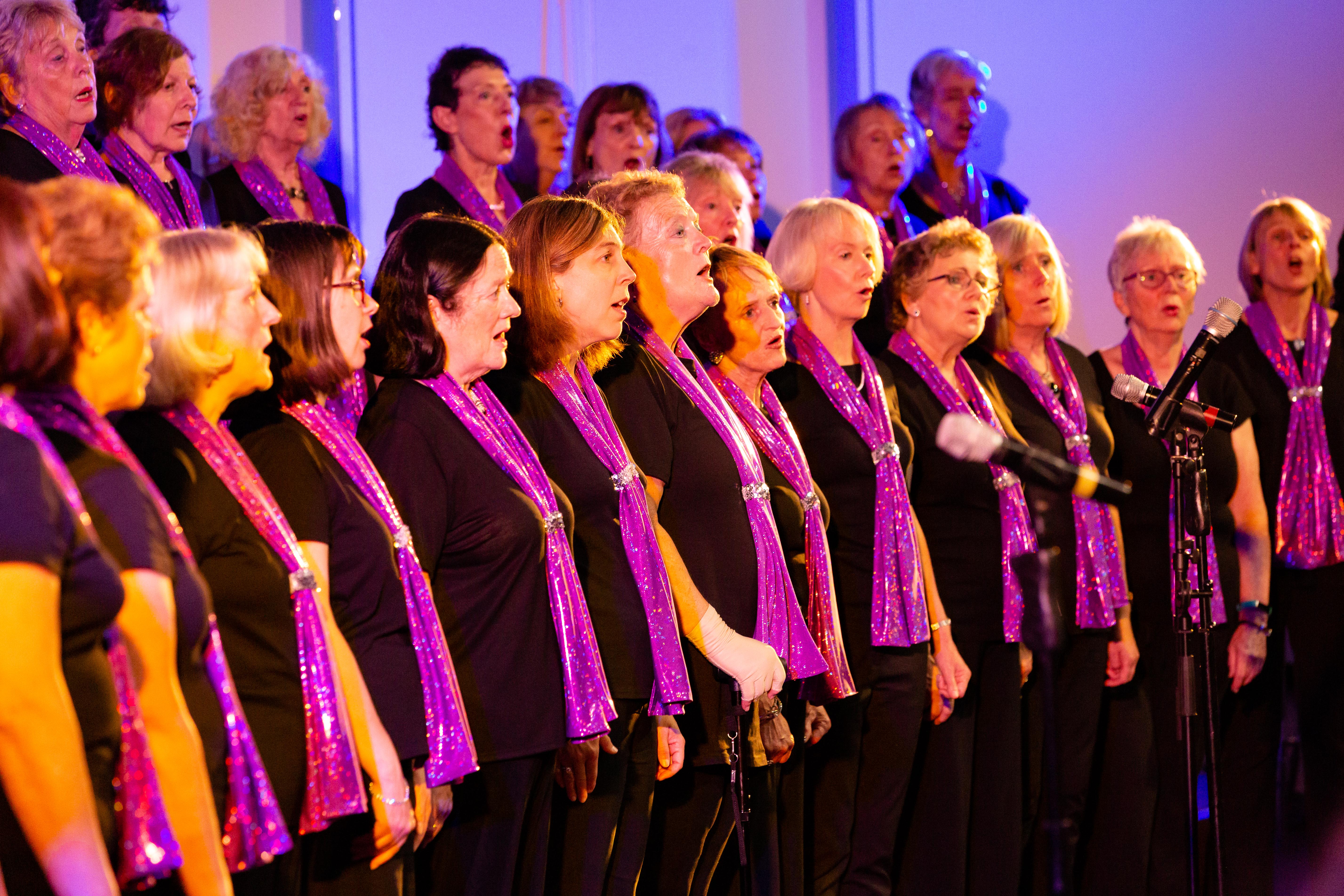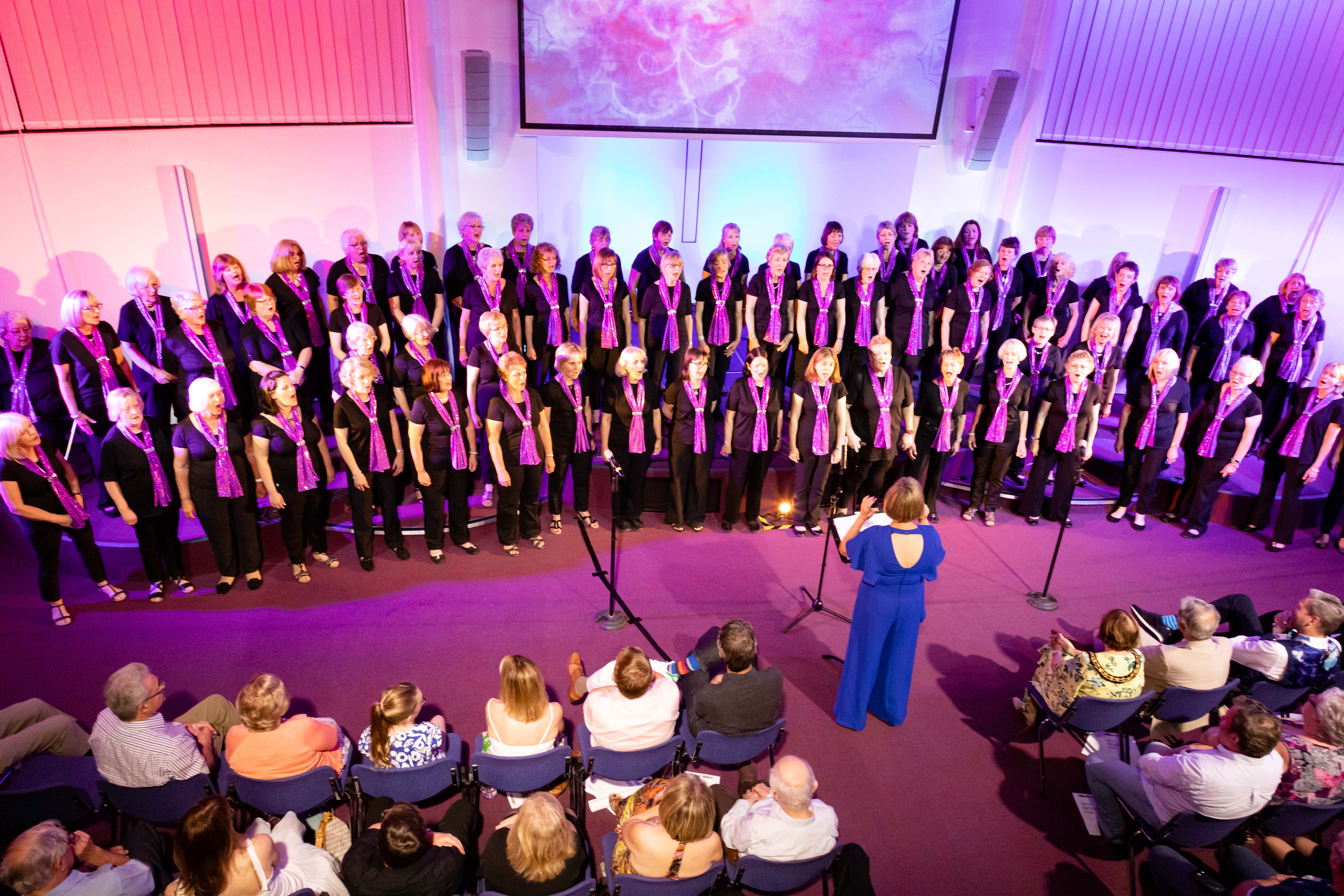 For further information contact –
Communications and Publicity:
Debbie Groves 07771 467472
Founder of Surrey Music and Musical Director of Elmbridge Choir:
Cliff van Tonder 07880 796623
Surrey Community Music Society (Surrey Music)
Two community choirs making one musical family of 240 volunteer members. Formed in 2005 by Cliff van Tonder, Surrey Music consists of two choirs – Elmbridge Choir and Elmbridge Ladies Choir which include members drawn from right across Surrey.
In doing what they love best – singing – members of the society have helped charities across a broad spectrum raise much needed funds through their concerts and performances. Surrey Music is proud to have raised more than £200,000 over the last 14 years for charitable purposes. The society has awarded more than £14,000 in grants for music related projects and activities in Surrey.
Both choirs have a large and varied repertoire from choral classics, to pop, rock and songs from the musicals. Emphasis at rehearsal and at concerts is on having fun, entertaining and engaging with the audience.
Most importantly everyone in the society share the same principles and ethos: to bring joy to others and themselves through music, and to give something back to the community. Little wonder that the society's slogan is "Music with a Heart"!
Elmbridge Choir
In 2005 Cliff van Tonder founded Elmbridge Choir which is a mixed-voice, 140- strong community choir. Membership is open to any person over 16. There is no audition and no requirement for a trained voice or previous experience; anyone is welcome to become part of the choir. Prospective members are required only to complete an online registration form to join.
Elmbridge Ladies Choir
Formed in early 2009, Elmbridge Ladies Choir comprises 90 members. The Musical Director is Christine Parker, who was once herself a member of the choir. This choir is also non-audition and welcomes applications from all women, regardless of experience or ability.