Karate is my passion, and has been since the age of 6. I have been training and competing for 7 years and my desire to win is undiminished.
Since my last update, I have been competing at a much higher level, often against those 4 years older than me. I believe my hard work, dedication, desire to be the best and the fantastic training I get from my coach are all attributes to my successes. Recently I went to the WUKF European Championships in Florence Italy, where I tested myself against the best in Europe. I was very happy to medal Gold and I have now become a 2 time European Champion. This success only drives me to become better and continue competing. I am hoping to be selected to compete at the world Championships, In Dundee, in June this year. It would be fantastic to become World and European champion for the second time.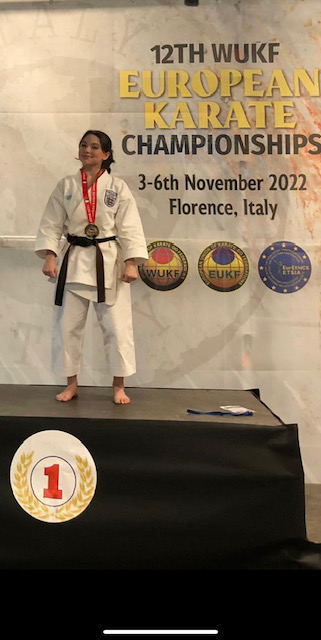 Training is vital and continuous in between competitions. Therefore my week is very busy training up to 7/8 times a week traditionally and with my squad. Some of this training is in preparation to grade for my black belt later this year. This would be an amazing accomplishment and something I have aspired to since I have started.
Beginning karate and competing when I was just six years old, I have been entered into 91 competitions resulting in a medal in every competition I have entered. Recently, I counted my achievements, winning gold in 78% of competitions. I have won 71 gold, 16 silver and 4 bronze.
Once again it is a great pleasure and I am very grateful to be sponsored by the DHF – allowing me to continue to develop and take part in a sport I enjoy so much. I am looking forward to seeing what this year has in store for me. – Eva
Amazing stuff and good luck for 2023, Eva.