We have another update from sailor Finn Morris:
Since my last update in February, I've had an exciting time with training and events followed by a complete break from sailing for GCSEs. But after the exams, we went straight to the European Championships in Denmark, where we had our biggest success to date.
Our winter training ended with the final round of the Grand Prix series (GP5) in Weymouth, which was a windy and challenging event. We were pleased to finish up 3rd overall and 1st juniors.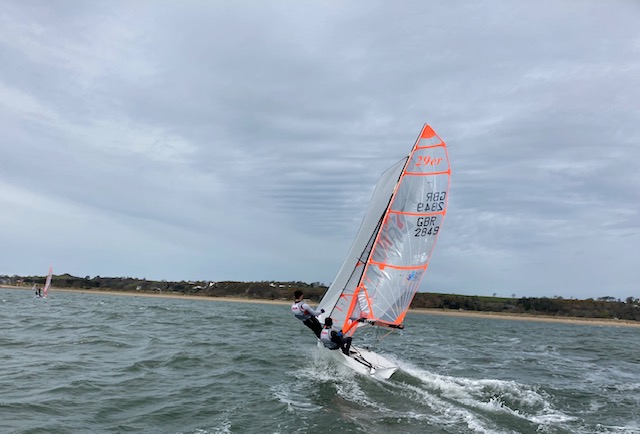 We then traveled with some optimism to the Youth National Championships in Pwllheli in North Wales during the Easter holidays. This is a big event, with 280 competitors in 6 classes and after training all winter, we had a slightly disappointing result, finishing 10th overall, but we did win the last race (it's nice to finish on a high!). Sadly exams then put a stop to training and racing for the next 10 weeks.
During this time, I took a quick trip to Milan to receive an award at the prestigious 2022 Foiling Awards for the best prototype built by an amateur. This award was for the boat that I built during lockdown, which was spotted online by Foiling Week, an international organisation that promotes sailing on foils. It was an exciting evening and I met some important designers and builders of race boats, with the support of the awards sponsors.
Immediately after finishing my GCSE's I headed straight off to Rungsted in Denmark for the 29er European championships. There were 165 teams from 24 countries competing. Oscar my crew and I had no expectations as we had not sailed much since Easter due to exams.
The conditions were tricky with mostly light winds for the first 3 days. At the end of the qualifying series we were in 33rd which we were quite happy with. This was enough to qualify for the gold fleet.
In the final series we worked hard to climb up the results and finish 19th overall and 3rd under 17. We received our prizes on the podium below, alongside the French and Italian competitors. We were 3rd British boat in a strong team performance, and we are very happy with this result in our first event back after a fairly long break. We are now looking forward to the world championships in Barcelona in late July.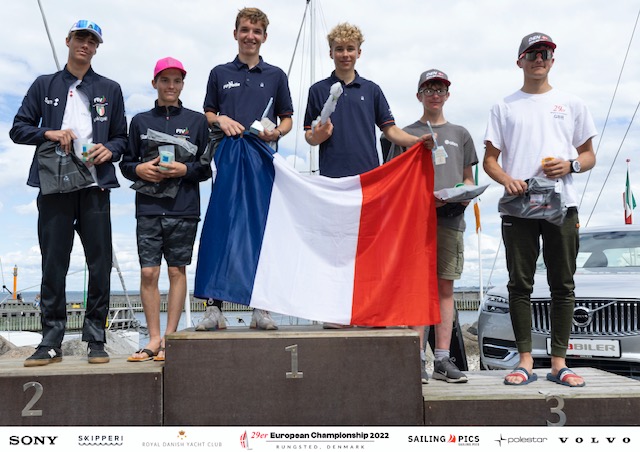 Thanks again to the Dylan Howell Foundation for supporting me. Without their generous support it would not be possible to compete in the international events I am competing in.